How to submit an abstract ?
1A. LOG IN TO YOUR EXISTING E-MRS ACCOUNT. Click HERE  
OR
1.B. CREATE A NEW ACCOUNT.Click HERE
CONFIRMATION RECEIVED BY EMAIL –
CLICK ON THE LINK TO ACTIVATE YOUR ACCOUNT
Hello …,
Thank you for registering at EMRS - Strasbourg. Your account is created
and must be activated before you can use it.
To activate the account click on the following link
or copy-paste it in your browser: http://www....
After activation you may login to http://www.european.mrs.com
using the following username and password:
Username - …
Password - …

2. SUBMIT YOUR ABSTRACT VIA THE NEW MENU ON THE LEFT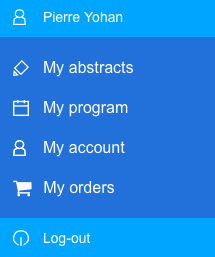 3. FILL IN THE FORM
(1500 characters max. - no pictures - no formulae)