ESTEEM3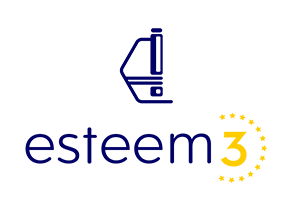 ESTEEM3 is an integrated infrastructure network of European Electron Microscopy Facilities providing transnational access for the academic and industrial research community in materials, physical, chemical and life sciences to the most powerful electron microscopy instrumentation and techniques available at the nanoscale.
Coordinated by Prof. Dr. Peter van Aken from the Max Planck Institute for Solid State Research in Stuttgart, Germany, the project has a term of four years, from January 2019 to the end of 2022, and is a follow-on-project of ESTEEM and ESTEEM2.
The project offers researchers in the private or public sector worldwide free Transnational Access to the best facilities and expertise in electron microscopy for the study of materials. Applications can be submitted online  to https://www.esteem3.eu for one of the 15 laboratories in Europe, where applicants can request access to laboratories located in a different country than the applicant institution.
ESTEEM3 member laboratories and SMEs (Attolight, CEOS, DENSsolutions and Nanomegas) also develop Joint Research Activities: one axis is to develop new techniques in electron microscopy, a second axis is devoted to the study of materials for ICT, energy, health and transport, and a third axis concerns automation and big data.
Additionally, ESTEEM3 deploys an education and training component by organizing schools, workshops and webinars on electron microscopy as Networking Activities.
"This project has received funding from the European Union's Horizon 2020 innovation programme under grant agreement No 823717".