UNESCO Chair on Sciences and Materials Engineering: energy, environment, health
What is an UNESCO chair?
A UNESCO Chair is a project and a team at a university or a higher education or research institution that partners with UNESCO in order to advance knowledge and practice in an area that is a priority for both the institution and UNESCO
UNESCO chair on "Sciences and materials engineering: energy, environment, health
Founded in 2014 at the University of Strasbourg, in collaboration with the European Materials Research Society (E-MRS) and the International Union of Materials Research Societies (IUMRS).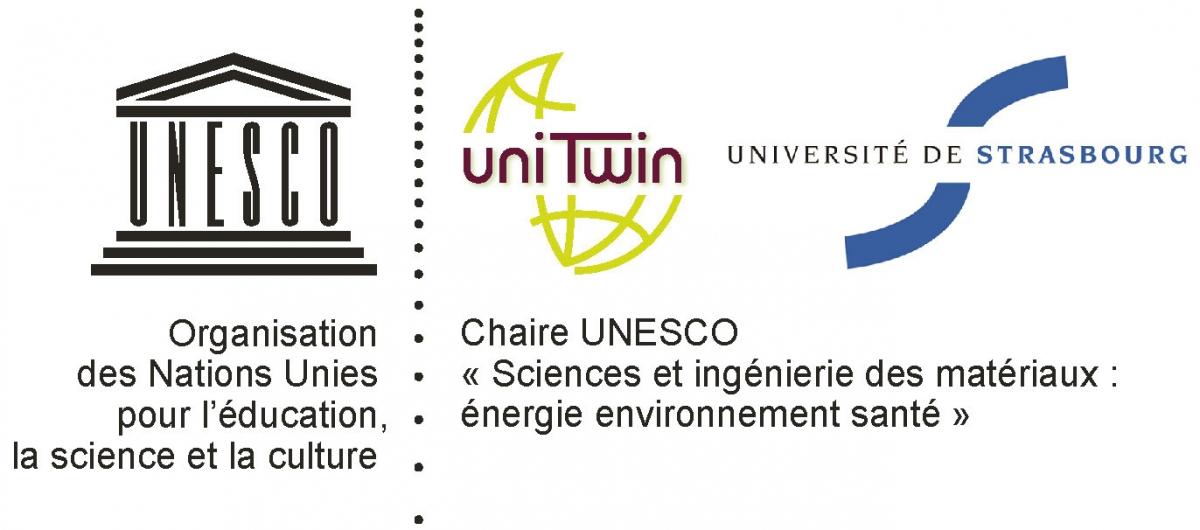 Chair holders : Paul SIFFERT, Directeur de recherches CNRS (e.r.); Paolo SAMORI, Directeur Laboratoire ISIS.
Fields of expertise : Sciences and materials engineering: energy, health, environment, including cultural heritage.
Domaines :Science et ingénierie des matériaux, un domaine multidisciplinaire appliqué à l'énergie, la santé, l'environnement y compris le patrimoine culturel.
Contact : Campus CNRS – Université de Strasbourg (Unistra)
E-MRS - BP.20
67037 Strasbourg cedex 2
Tel : 03.88.10.65.43
emrs[at]european-mrs.com
Objectives:
Diffusion of scientific and technical information in the field of Advanced Materials to the European and wider International community;
Longer term role of Materials and their applications to meet the global challenges;
Address the new ethical problems related to the use of Nanomaterials and Artificial Intelligence to professionals working in the field and the general public;
Contribute to the education of Young Researchers and Engineers during conferences, by organising and hosting tutorials and workshops; organising and supporting summer schools.
Main activities:
The target is to impact on three cohorts actively involved in the field of advanced materials:
young researchers (< 40 years old);
senior researchers and engineers with international influence;
VIP's at the world level.
1. Young Researchers:
Three forms of event are organised on a regular base:
"Workshops and tutorials" generally arranged prior to, within, or immediately following large, or medium sized conferences in order to have presentations delivered by internationally academics or industrialists.
"Young minds" specific meetings organised by the young researchers, but supervised and advised by senior researchers.
"Summer schools" related to the future energy supply and its sustainability, organised alternatively in Europe (Erice/Italy) and USA (Colorado Institute of Mines, Caltech.). Between 65-75 international students and young researchers throughout the world participate.
2. Large conferences on advanced materials:
The annual Spring meeting is generally held in Strasbourg, France, and the Autumn, the Fall meeting is held in Warsaw, Poland.  Together the conferences attract a total of 4,000 participants from 60-70 countries. There are generally one, sometimes two plenary sessions frequently involving presentations by Nobel Laureates. 
The various symposia allow to the Materials Community to be informed on the latest outcomes of leading-edge research, developments and applications in the relevant science and technologies.
3. World Materials Summits:
The 6th World Materials Summit was held at the Council of Europe, in Strasbourg in November 2017 in the presence of 6 Presidents or V.P. of the Academy of Sciences from Australia, China, India and Poland. In addition, the Summit was attended by the high level personnel and leaders from NASA, General Motors, Nobel laureates and Government officials from several countries.
The Summit was entitled "Materials Innovation for the Global Circular Economy and Sustainable Society" with its objective being to promote discussions within a restricted, but knowledgeable audience, on the major energy sources for mobility, the development of methods of recycling of materials in economic and environmentally acceptable conditions, the impact of nanomaterials in medicine, Artificial Intelligence (AI) and the consequent Ethical implications.
Main achievements :
More information about UNESCO chairs: https://unesco.delegfrance.org/Les-Chaires-UNESCO-en-France