Practical information

All practical information to simplify your experience: contact address, bank details, abstract submission, guidelines, publication, registration, cancellation, etc ...
Conference venue:
Warsaw University of Technology
Pl. Politechniki 1
00-661 Warsaw
Poland
Conference secretariat:
Faculty of Materials Science and Engineering
Warsaw University of Technology
Woloska 141
02-507 Warsaw, Poland
Contact person:
Agnieszka Rytel
Phone: +48 22 234 87 94
Email: emrs[at]pw.edu.pl
Conference reception:
All participants are invited to attend the Conference reception on Wednesday September 20th, 2023 starting at 18:00 (Main building - Main hall). Music entertainment and refreshments will be provided as part of conference arrangements. Symposium organizers and Award winners will be honored at the beginning of the reception.
Abstract submission:
Abstract submission deadline: June 12, 2023 (POSTPONED DEADLINE)

Abstract length: Website submissions are limited to 3.000 characters. (only plain text, no figures, no formulae…)
Note: All abstracts must be submitted via E-MRS website at www.european-mrs.com
Submitting abstracts via the E-MRS is very easy and convenient. Follow the step-by-step instructions on the template, making sure that complete mailing address information is included for the presenting and contact authors. After submitting your abstract, please use the given Control ID number in all communications with E-MRS regarding the abstract. After that date, any change must be submitted to: emrs[at]pw.edu.pl (Subject: Abstract Revision) and must include your Control ID number. Please state exactly where the revisions are located (e.g., title, author, body, etc)
Authors will be notified of acceptance and the mode of presentation of their paper by July 15th, 2023.
Manuscripts and proceedings:
Depending on the symposium, a selection of full length papers will be published as special issues in appropriate journals. Submitted papers will be refereed to journals standards. Instructions to authors will be dispatched together with the notification of acceptance of the abstract.
The decision of which journals shall publish the symposia proceedings will be made jointly by symposium organizers and journal editors. An announcement of these journals will be published on the concerned symposium webpage.
Conference language is English.
Oral presentations:
Duration of oral presentation, including discussion, depends on symposium organisers but recommendations are:
45 minutes for plenary talks,
30 minutes for invited talks,
15 minutes for contributed talks.
Posters:
There will be two poster sessions on 18th and 19th of September. Authors need to be present at their posters for discussion with attendees during the session assigned in the each symposium programme.
Mandatory poster size is A0 (841×1189 mm), vertical (portrait) format. No tapes or pins will be needed for hanging posters. 
It is each author's responsibility to remove his/her poster immediately at the end of the session. E-MRS assumes no responsibility for posters left up after this time. Attendees can preview the posters during the morning, before the formal presentation.
There is no printing office on site but, if necessary, there are several shops within walking distance from the Conference venue.
Registration:
Online registration is mandatory. We highly recommend to issue your payment online as well, in order to avoid waiting during on-site registration. All participants (including chairpersons, authors, presenting authors, invited speakers, scientific committee members…) must register online (abstract submission and conference registration are separate items and are not linked).
Online registration must be made by August 18th, 2023 at the latest, to be eligible for the early registration fee. Online registration and payment is is recommended to avoid long queue and is possible until September 12th, 5 pm (CET).
On-site registrations will be possible starting Sunday Sept. 17th (from 15:00 to 18:00) but will be restricted to only a limited numbers.
Registration fees:
FULL RATE
Early reg.fees: register by August 18th, 2023: 510 EUR
Late reg.fees: register August 19th, 2023 or later: 620 EUR
On-site registration fees: 760 EUR
STUDENT RATE
Early reg.fees: register by August 18th, 2023: 300 EUR
Late reg.fees: register August 19th, 2023 or later: 410 EUR
On-site registration fees: 500 EUR
NB: Students have to present evidence of their status.
The registration fee for a Regular Participant includes:
Admission to the Plenary Session, all parallel Symposia and Workshops
Electronic version of the Abstracts book
Conference Badge
Refreshments during breaks
Lunches
Admission to the poster sessions
One copy of the proceedings of a named symposium (if applicable)
The following payment options are offered:
Credit card (Carte Bleue, Visa, Eurocard/Mastercard)
Bank transfer (cf. Bank details section)
If you register online, but do not pay your fees during the registration process, your registration will only be finalised once E-MRS has received your payment.
Bank details:
Bank:
     
SOCIETE GENERALE
Address:
 

SG STRASBOURG (0230)
255 R MITTELHAUSBERGEN
F-67012 STRASBOURG
FRANCE

Account:
 
EUROPEAN MATERIALS RESEARCH
IBAN:
 
FR76 3000 3023 6000 1500 4677 172
BIC (SWIFT):
 
SOGEFRPP
Bank transfer: Watch to identify well your transfer by indicating your ID Number and your name and first name. In order to guarantee your participation, full payment must be made by September 11th at the latest.
Cancellation:
In case the E-MRS conference is cancelled, the conference attendees will be entitled to claim the reimbursement of the registration fee. In no case can the conference organisers be held liable for the reimbursement of any other cost, such as travel costs, accommodation costs, living expenses etc. Such costs are the exclusive responsibility of Conference attendees.
In order to receive a refund, cancellation requests must be in writing and sent by September 4th  which will cause a €25 processing fee. No refunds will be issued on requests postmarked after September 5th. In recent years, there has been a move away from long scary disclaimers of liability for acts of God, terrorism, strikes, volcano eruption etc., so these are no longer included.
Conference floorplan: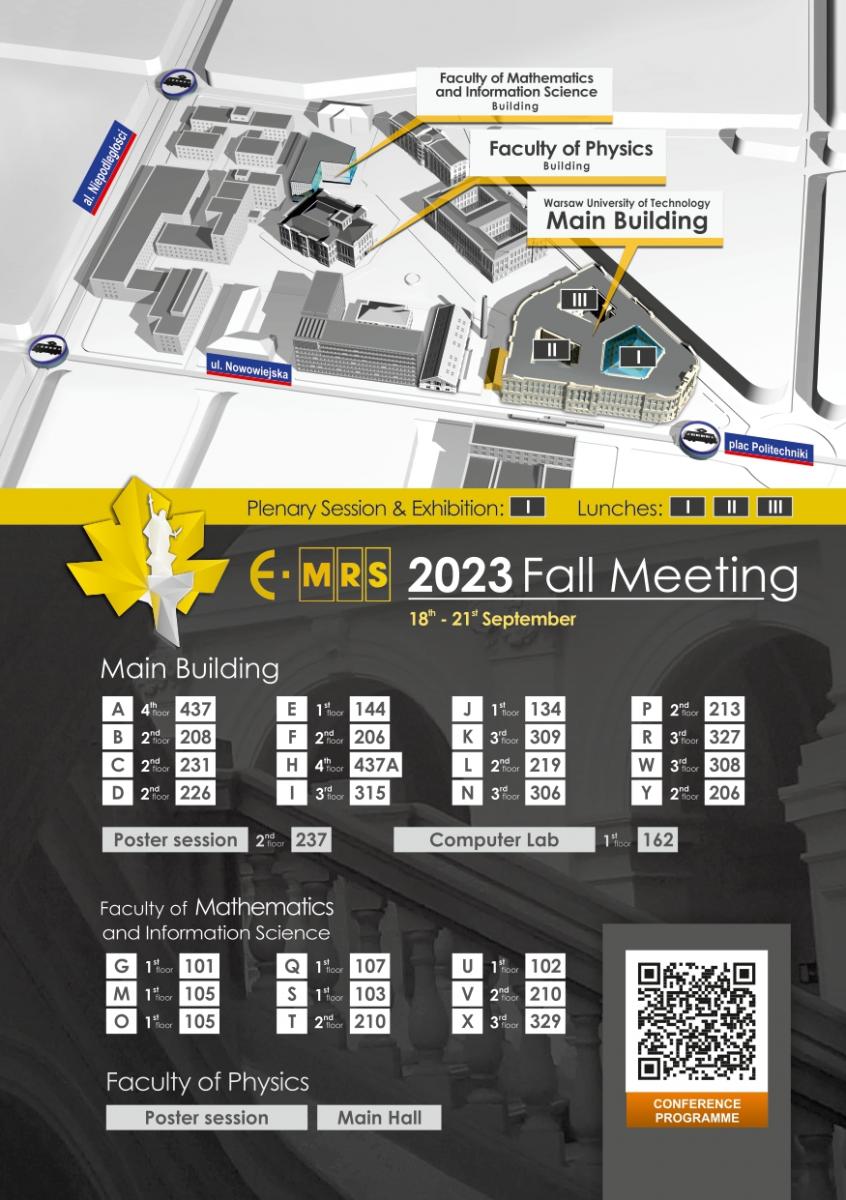 Hotel accommodation:
For E-MRS Fall Meeting Participants an offer of a various accommodations at discounted rates has been prepared. A hotel booking office, operated be Nobell Congressing, offers an accommodation at the hotels located close to the conference venue, with breakfast included and a convenient booking conditions.
Accommodation can be easily booked by using the following links:

Hotel MDM *** - link https://hotels.nobell.pl/branch/mdm
Hotel located 5 min walk to E-MRS 2023 Fall Meeting conference venue. Enjoy comfortable accommodation and the best facilities. Keep up to date and connect to free Wi-Fi or choose to stay disconnected and enjoy stunning city center views from your comfy room - or simply visit one of plenty local attractions.
Hotel Metropol ***  link https://hotels.nobell.pl/branch/metropol
15 min walk to E-MRS Fall 2023 conference venue. Hotel offers an accommodation in modern comfortable and spacious rooms to meet the needs of all guests and provide an ideal place for work or relaxation. WIFI & a desk will let you work while having tea/coffee.
Radisson Blu Sobieski ****  link https://hotels.nobell.pl/branch/radisson-blu-sobieski
Radisson Blu Sobieski Hotel offers comfortable and functional rooms quipped with high-class facilities, including free wireless internet, LCD TV, air conditioning, minibar and work desk. Located just km away from the E-MRS Fall Meeting venue (8 minute drive / 20 minutes walk).
Hotel Mercure Warszawa Grand ****   link https://hotels.nobell.pl/branch/mercure-grand
15 min walk to E-MRS Fall 2023 conference venue. Hotel offers an accommodation in modern comfortable and spacious rooms 
For general information about the city of Warsaw, please visit http://wcit.waw.pl/en/
Visa assistance:
Citizen having passports from certain countries need a visa to enter Poland. Our online registration system enables you to obtain an official invitation letter in pdf format. Log in to your personal space and complete the registration form. Passport number, expiry date, date & place of birth are requested. Invitation letter in PDF format will be automatically generated by the system.
If you need any specific information on your invitation letter, please contact us as soon as possible
By email: emrs[at]pw.edu.pl
Subject: VISA ASSISTANCE - FALL MEETING
E-MRS is not able to contact Embassies in support of an individual attempting to gain entry to attend the meeting.
Because the application for a visa can be a lengthy process, we recommend that you start your visa application process as soon as you have been notified that your paper has been accepted. We also recommend that you secure your travel visa before registering for the symposium.
Travel information:
By plane
Chopin Airport
Departures and Arrivals Information, phone + +48 22 650 42 20
On-line timetable www.lotnisko-chopina.pl
Warsaw Frederic Chopin Airport, located some 12 km from the city centre can be easily reached by car, public bus or taxi.
http://www.lotnisko-chopina.pl/en/passenger/access-and-car-parks
Modlin Airport
Airport webpage:  http://www.modlinairport.pl/
Airport Information, phone  +48 22 315 18 80
Train:
By Modlin shuttle-bus to Modlin train station, then by train (KM) to Central Railway Station. (4-5 €)
Bus:
Modlin-bus connects Modlin Airport and Central Railway Station
By train
There are three train stations in Warsaw that handle international and domestic train traffic:
Warszawa Centralna (Central Warsaw) (Aleje Jerozolimskie 54) - situated in the city center and very well connected to all of the city's districts.
Warszawa Zachodnia (West Warsaw) (Aleje Jerozolimskie 144) - thanks to the neighbouring international bus terminal, this is where people travelling in or out of the country await their transfers.
Warszawa Wschodnia (East Warsaw) (Lubelska 1) - located on the east side of Vistula River (Praga)
Railway tickets can be purchased at the cash-only windows (kasa) in the stations, on the Internet or at selected travel agencies. You can also purchase your ticket on the train from the conductor, whom you must seek out immediately upon boarding the train, to buy the ticket. Tickets sold on the train are subject to an additional fee.
Timetable of trains is available at:
By car
The main way to access to Warsaw by road is to take one of four major European routes:
from the north: Route E77 (from Gdańsk)
from the east: Route E67 (from Białystok), route E30 (from Terespol)
from the south: Route E67 (from Wrocław), route E77 (from Kraków)
from the west: Route E30 (from Poznań)
Along the roads are signs giving the number of kilometers to the centre of Warsaw.
LOCAL PUBLIC TRANSPORT
The WUT Central Campus can be easily reached using the local public transport. The tram stop "Plac Politechniki" for lines 10, 14 and 15 is 1 min. walking from the venue and the metro station "Politechnika" is 10 min. walking.
The main railway station "Warszawa Centralna" is located in the city centre about 20 min. walking or 3 min. by tram 10 from the conference venue. Tram 10 departures from the stop "Dworzec Centralny" in the direction "Wyscigi" and "Służewiec" every 10-15 minutes. You need to get out at "Plac Politechniki" tram stop.
Both local trains (SKM -Fast Urban Railway, and KM - Masovian Railways), buses, tramways and metro require a valid ticket – one-way price is 1-2  € and can be bought in any kiosk, in ticket machines (on most bus stops or inside trains and buses) or from the bus driver.
TAXIS
When using taxis in Warsaw, it is strongly recommended that you use only those with the following: the symbol of Warsaw – a mermaid – on both front doors, yellow/red stripes affixed to the glass along the front doors, a number stuck to the side of the vehicle, a hologram with the license number and the vehicle's registration number on the upper right-hand corner of the front glass and a sticker with price information per kilometer that must be displayed on the glass of the right-hand side back door. It is recommended for you to use one of the city's official Radio-Taxi companies, and order a taxi by telephone. The airport (Arrivals) is served only by 3 Radio-Taxi companies: Ele Taxi, Sawa Taxi i Super Taxi.
PARKING'S
There is no free public parking around the Conference Venue.  
The whole area of Warsaw city centre is a controlled parking zone. This rule applies from Monday to Friday, from 8 am to 6 pm. On Saturdays, Sundays and public holidays parking is free.
Warsaw Car parks system "Park & ride": http://www.ztm.waw.pl/parkujijedz.php?c=116&l=2
Useful links: