Practical information
All practical information to simplify your coming: contact address, conference venue, transportation, hotel reservation, Visa assistance, bank information, financial support, etc.
CONFERENCE SECRETARIAT
E-MRS 2016 SPRING MEETING
BP 20
F-67037 Strasbourg Cedex 2
Phone: +33 3 88 10 63 72
Fax: +33 3 88 10 63 43
emrs@european-mrs.com
Address for express mail:
E-MRS
Campus CNRS
Building 50
23 rue du Loess
67200 Strasbourg – France
Contact person:
P. Siffert +33 (0)3 88 10 63 72
SIRET n°: 382 390 292 00011
APE code: 9499Z
BANK DETAILS
Bank: BP ALSACE LORRAINE CHAMPAGNE
Address: Immeuble Le Concorde
4 quai Kléber
BP 10401
67001 Strasbourg cedex - FRANCE
Account: ASS E MRS
Domiciliation / Paying Bank: CRONENBOURG MITTEL
IBAN (International Bank Account Number): FR76 1470 7500 1111 1913 8543 942
BIC (Bank Identification Code): CCBPFRPPMTZ
HOTEL ACCOMMODATION
Book your hotel on time. Lille is a very busy city at this period.
Génération Voyages is the official and exclusive agent appointed by the organizer of E-MRS 2016 to manage with hotel bookings.
More information available HERE
Warning for Participants
The European Materials Research Society (E-MRS) has been made aware of a service provider of the name Exhibition Housing Services (EHS), which has contacted a number of participants, citing the Congress, to offer hotel reservation services.
Please note that Exhibition Housing Services (EHS) do not represent the European Materials Research Society (E-MRS) nor Lille Congress Centre, nor have the E-MRS or Lille Congress Centre authorised them to use their names or trademarks on information they send out to participants.
The E-MRS has appointed Selectour Afat as the sole authorised accommodation booking agency for the E-MRS 2016 Spring Meeting.
For hotel reservations, accommodation can be easily booked by using the online accommodation booking system: http://www.congres-generationvoyages.com/en/

CONFERENCE VENUE
Congress Center (Grand Palais) in Lille
1 Boulevard des Cités-Unies
F-59777 EURALILLE 
France
More information available HERE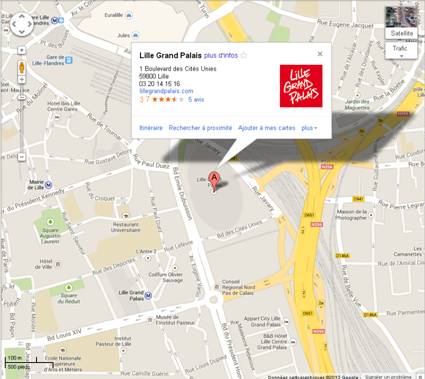 CONFERENCE LANGUAGE IS ENGLISH
ABSTRACT SUBMISSION
Deadline for abstract submission: January 22, 2016.
Abstract Length: submissions are limited to 1500 characters. (including spaces, only plain text, no figures, no formulae...)
Note: All abstracts must be submitted via the E-MRS website www.european-mrs.com
Submitting abstracts via the E-MRS Web site is easy and convenient. Follow the easy step-by-step instructions on the template, making sure that complete mailing address information is included for the presenting and contact authors. After submitting your abstract, please use your Control ID number in all communications with E-MRS regarding the abstract UNTIL a paper number (e.g., A-IV.8) is later assigned.
Because major revisions may affect a symposium organizer's decision to accept your abstract, please review it carefully before submission. In the unusual circumstance of having to revise your original abstract, the online submission center enables authors to revise their abstracts up to and including the submission deadline of January 15. After that date, the change must be submitted to: emrs@european-mrs.com (Subject: Abstract Revision) and must include your Control ID number. Please state exactly where the revisions are located (e.g., title, author, body, etc.).
Papers will be selected by the scientific committee of each symposium.
Authors will be notified of acceptance and mode of presentation by February 25, 2016 at the latest.
MANUSCRIPTS AND PROCEEDINGS
Depending on the symposium, a selection of full length papers will be published as special issues in appropriate journals. Submitted papers will be refereed to journals standards. Instructions to authors will be dispatched together with the notification of acceptance of the abstract.
The decision of which journals shall publish the symposia proceedings will be made jointly by symposium organizers and journal editors. An announcement of these journals will be published on the concerned symposium webpage.
POSTERS
A printing office will welcome you (at 200 meters from the Congress Centre) and will give you the opportunity to print your poster at special cost (conference badge required)
Quatra's Reprographie
3, rue Saint-Sauveur
59000 Lille
Tel.: +33 (0)3 20 13 82 34
Fax: +33 (0)3 20 13 82 04
Email : contact@quatras.fr
Web : www.quatras.fr
OPENING TIMES: 9:00 - 19:00 (Mon - Fri)
The viewable size of the poster board is: vertical 1.10 m and horizontal 0.90 m. The boards are full white. Please use tape (no pins)! Attendees can preview their posters the morning before the formal presentation.
Authors need to be present at their posters for discussion with attendees during the session. Subsequently, it is each author's responsibility to remove his/her poster immediately at the end of the session. E-MRS assumes no responsibility for posters left up after this time.
REGISTRATION
IMPORTANT:
Each attendee (including chairpersons, invited speakers, presenting authors, co-authors, scientific committee members....) must register online.
Registration starts at the end of the abstract submission period only. Online registration will be possible until APRIL 18, 5 pm (CET) If you do not have an E-MRS account on our website, you need to create one before registering to the Spring Meeting.
Pre-registration is compulsory and pre-payment is recommended to avoid a long queue.
Attendees can also register on-site at the Congress Centre "Lille Grand Palais". On-site registration opens Monday, May 2 at 7:30 am.
IMPORTANT: On-site registration does not include any conference pack (bag, printed version of the conference program, USB stick, …). It includes only access to symposium rooms, lunches, coffee breaks and social event.
On-site payment hours:
| | | | | | |
| --- | --- | --- | --- | --- | --- |
|   |  Monday |       | May 2      |     |  7.30  - 18.00  |
|   |  Tuesday |   | May 3 |   |  8.00  - 18.00 |
|   |  Wednesday |   | May 4 |   |  8.00  - 18.00 |
|   |  Thursday |   | May 5 |   |  8.00  - 18.00 |
|   |  Friday |   | May 6 |   |  8.00  - 17.00 |
REGISTRATION FEES
Abstract acceptation does not mean registration: each author attending the conference must register separately
FULL RATE
including: access to symposia, lunches, coffee breaks, social event, E-MRS membership for one year and one proceedings volume (if applicable).

BEFORE MARCH 21, 2016  560 EUR net
AFTER MARCH 21, 2016    660 EUR net

STUDENT RATE
including: access to symposia, lunches, coffee breaks, social event, E-MRS membership for one year. (Students have to give evidence of their university registration at the main desk)


BEFORE MARCH 21, 2016  310 EUR net
AFTER MARCH 21, 2016    390 EUR net

E-MRS is a non-profit organization, no subject to VAT.


ON-SITE REGISTRATION
Attendees can also register on-site at the Congress Center "Lille Grand Palais.
On-site registration opens Monday May 2 at 7:30.

IMPORTANT: On-site registration does not include any conference pack (bag, printed version of the conference program, USB stick, …). It includes only access to symposium rooms, lunches, coffee breaks and social event.
On-site registration will be available for the duration of the meeting.
PAYMENT OF FEES
Payment should be made in EURO for the net total amount due.
The following possibilities are offered:
Credit card (Carte Bleue, Visa, Eurocard/ Mastercard) (mode preferred)
Bank transfer:
Bank: BP ALSACE LORRAINE CHAMPAGNE
Paying Bank: CRONENBOURG MITTEL
Account: ASS E MRS
IBAN: FR76 1470 7500 1111 1913 8543 942
BIC: CCBPFRPPMTZ
Watch to identify well your transfer by indicating your ID Number and your name and first name
Purchase order (bon de commande) - to be sent by April 4 at the latest.
Cheque (to the order of E-MRS)
Cash (on-site payment only)
CANCELLATION
In case the E-MRS conference is cancelled, the conference attendees will be entitled to claim the reimbursement of the registration fee. In no case can the Conference Organisers be held liable for the reimbursement of any other cost, such as travel costs, accommodation costs, living expenses etc. Such costs are the exclusive responsibility of Conference attendees.
In order to receive a refund, cancellation requests must be in writing and sent by April 18, which will cause a €25 processing fee. No refunds will be issued on requests postmarked after April 18. In recent years, there has been a move away from long scary disclaimers of liability for acts of God, terrorism, strikes, volcano eruption etc., so these are no longer included.
EXHIBITION HOURS
Location: Lille Grand Palais
1, boulevard des Cités Unies
59777 – Euralille – Lille
France
Tel : 33(0)3 20 14 15 16
Fax: 33(0)3 20 14 14 14
Installation: Monday May 2 (14:00 - 19:00)
Exhibition hours:
| | | |
| --- | --- | --- |
|   |  Tuesday May 3 |  9:00 - 19:00 pm |
|   |  Wednesday May 4 |  9:00 - 19:00 pm |
|   |  Thursday May 5 |  9:00 - 16:00 pm |
|   |   |   |
Dismantling:  May 5, after 16:00

PLENARY SESSION
    

A plenary session is scheduled for Wednesday May 4, 2016 - afternoon.

Symposium organizers, Graduate Student Award, EU-40 Materials Prize, Reach.Out! Award winners will be honored at the end of the plenary session on Wednesday afternoon, May 4 (18:30) - room VAUBAN (level 3)
SOCIAL EVENT
A reception is being arranged for all the conference participants on Wednesday evening May 4 starting at 19:00. All conference attendees are invited to this reception as a chance to meet and renew relationships with colleagues. Music and food will be provided free of charge.
TRAVEL INFORMATION

REACHING LILLE ...
... By air:
Lille-Lesquin International Airport is 15 minutes from the City Centre, the business district and the two railway stations. Over 70 national and international destinations. Direct flights with Air France, Aigle Azur, Air Algérie, Easyjet, HOP!, Ryanair, Tunisair Transavia, twinjet, Volotea, Vueling...
More information on: www.lille.aeroport.fr
Lille is also connected to main European airports:
Roissy Charles de Gaulle International Airport: direct high-speed train between Paris and Lille in 50 mins
Brussels South Charleroi and Brussels National Airport
 
 
 
      

Attractive discounts on a wide range of fares on all Air France and KLM flights worldwide**.
Event ID Code to keep for the booking: 26537AF

More details here
Event: E-MRS 2016 SPRING MEETING
Event ID: 26537AF
Valid for travel from 27/04/2016 to 11/05/2016
Event location: Euralille, France
Use the website of this event or visit www.airfranceklm-globalmeetings.com to
• access the preferential fares granted for this event*,
• make your booking,
• issue your electronic ticket*,
• and select your seat**.
If you buy your ticket via AIR FRANCE & KLM Global Meetings website, your electronic ticket will carry
a special mention which justifies the application of the preferential fares.
Should you prefer to process your reservations and ticket-purchase directly with an Air France and
KLM sales outlet, you must keep this current document which serves to justify the application of the
preferential airfares.
Keep the document to justify the special fares with you as you may be asked for it at any point
of your journey.
Frequent flyer / loyalty programs of Air France and KLM partner airlines are credited with "miles" when
Air France or KLM flights are used.
* not available in certain countries
** subject to conditions
Air France, French Limited Company with a capital of 126,748,775 Euros
Head Office: 45, rue de Paris, 95747 Roissy CDG cedex, France
Registered on the Trade and Companies register in Bobigny under no. 420 495 178
Koninklijke Luchtvaart Maatschappij n.v. (also known as KLM Royal Dutch Airlines)
Head Office: Amsterdamseweg 55, 1182 GP Amstelveen, the Netherlands
Registered No 33014286
Edited by AIR FRANCE & KLM Global Meetings: JH.CD
... By train:
Lille has two train stations, they are 400 metres apart and situated in the city centre:
Lille Flandres: regional trains and direct TGV to Paris (58 mn).
Lille Europe : Eurostar and direct TGV to London (1h20), Brussels (32mn), Lyon (2h55), Strasbourg (3h18), Marseille (4h42), Bordeaux (5h09)…
Rail Europe allows you to book all types of European rail passes and tickets online. Eurail passes, Euro passes, Single country passes, Point to Point tickets, Rail 'n Drive passes, Night trains, Special trains, High Speed trains, Eurostar, etc. Online train schedules are also available: http://www.raileurope.com/
... By road:
Lille Metropole is at the crossroads of France's densest freeway network. More than 500 km of motorway connect great European cities:
1h from Bruxelles (E429/E17)
2h from Paris ( EA1 /E42)
3h from Luxembourg (A4/E17)
3h from Amsterdam (E17)
5h45 from Francfort ( E42)
From the UK : Eurotunnel from Folkestone to Calais, then to Lille by the motorway A26.
Parking at the Congress Center
Public parking (500 car spaces)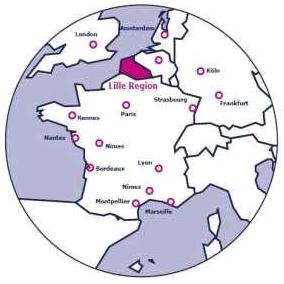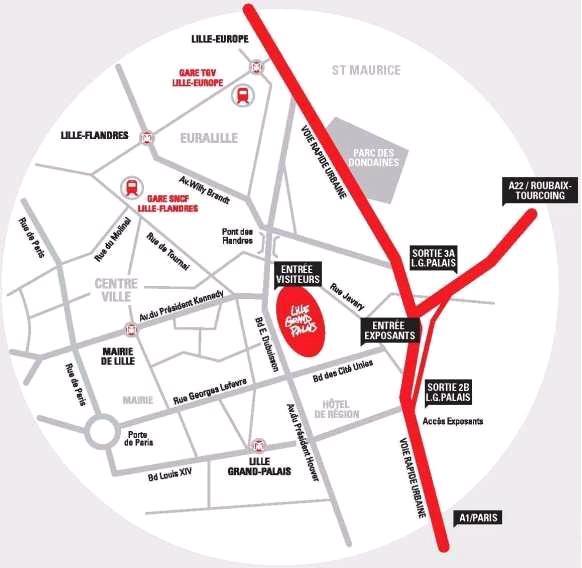 TRAVEL WITHIN THE CITY
Lille Grand Palais is approximately 10-15 min feet from the historical center and thanks to Transpole, Lille Metropole has a comprehensive public transportation system:
2 automatic metro lines (the VAL: automatic light vehicle) The world's 1st automatic metro system (1983), 60 stations covering 45 km.
2 tramway lines serving over 36 stations, connecting Lille to Roubaix and Tourcoing.
60 bus lines.
Other modes of transport:
V'Lille: Bicycle on a self-service basis: 210 stations www.vlille.fr
Bike and E-bike hire (electric pedal bike) Transpole: Oxygène station at Champ de Mars (Monday to Saturday from 7.00 am to 8.00 pm www.transpole.fr
Alter Move : 89 rue Nationale - Lille www.altermove.com
Cycle-taxi Cycloville. A covered cycle-taxi service in the city centre. €1 per pick-up + €1 per km per person (up to 2 people). www.cycloville.com
VISA ASSISTANCE
Citizen having passports from certain countries need a visa to enter France. If you need any assistance to obtain your visa, please contact us as soon as possible (indicate your address, date and place of birth, your passport number and date of expiration).
By email: nathalie.geyer[at]european-mrs.com
Subject: VISA ASSISTANCE
All letters of invitation will be sent by airmail and by PDF e-mail attachment unless a courier account number is provided with the original request. E-MRS is not able to contact Embassies in support of an individual attempting to gain entry to attend the meeting. Because the application for a visa can be a lengthy process, we recommend that you start your visa application process as soon as you have been notified that your paper has been accepted. We also recommend that you secure your travel visa before registering for the symposium.
COFFEE BREAKS
Coffee will be served during the morning and afternoon breaks. Please check the individual technical conference listings for exact times.
INTERNET ACCESS / WIFI
     

A limited number of internet access terminals will allow attendees to access their internet e-mail during the conference. E-MRS is also pleased to provide complimentary wireless access to the internet for all conference attendees bringing their own laptops.

Network: EMRS
Password: lille2016
AUDIOVISUAL PACKAGE
The standard audio-visual package in each symposium room will consist of:
video projector, screen, laser pointer/remote control & microphone
PC windows XP pro / Microsoft Office pack (including power point), USB plug and CD-Rom
CONFERENCE APP
Navigate conference venue, receive most recent push up information from the organizers, arrange meetings with other participants (app required on both sides). Also check recent programme, speakers list and exhibitors list.
Download it from Apple Store if you have iOS or from Google Play for Android system.